>>>
Verduzzo friulano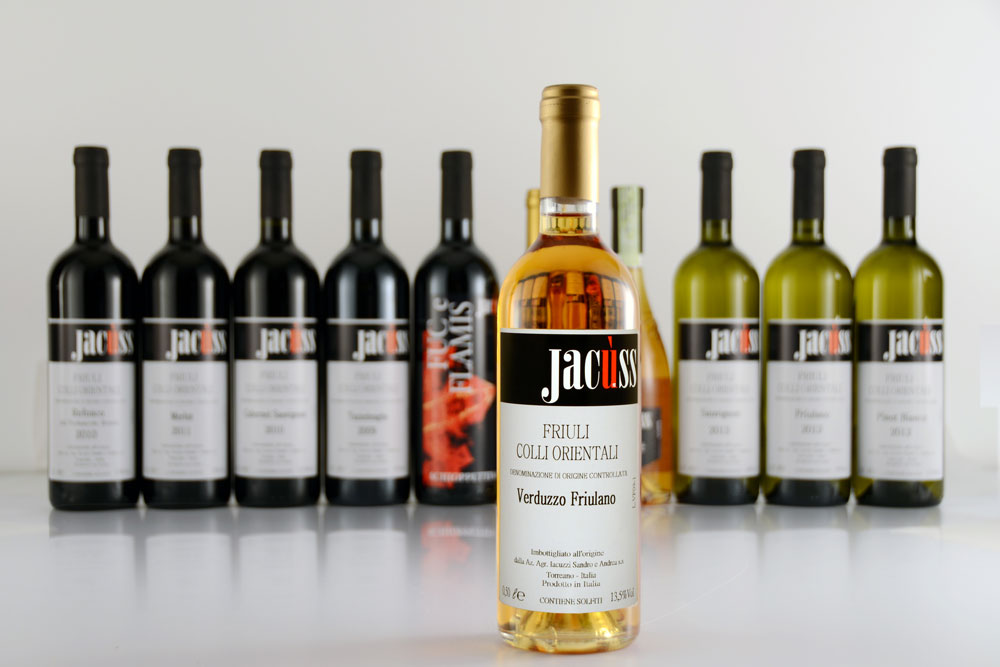 Variety of grapes: Verduzzo Friulano 100%
Vineyards location: (Municipality of Torreano – Colli Orientali del Friuli).
Growing method: Guyot, 4.00-5.000 plants/ha, vineyard planted from 1972 to 1987.
Yield/hectar: 55 quintals
Vinification techniques: Manual harvesting of the grapes that are positioned in dry chests and put into a loft with natural ventilation, which lasts until late December, from soft pressing of whole grapes, you get a very low yield of mash, fermentation starts very slow and lasts several months.
Follow 15 months of maturation in barrique and a further bottle aging.
Ageing and fining: Verduzzo is left in the tank for three years and then proceeds to bottling. Only after six months in bottle is commercialized.
Characteristics: Pale yellow with greenish reflections, intense bouquet reminiscent of wild flowers, with an aroma of almond. With delicate honey tones and vanilla notes from aging in barrique. Sweet on the palate, full-bodied and slightly tannic, robust gradient typical of the grape, supported and enclosed by an amalgam of flavors and tastes mixed to barrique.
Alcohol content of wine: 14,33%Vol
Total acidity: 5,4 g/l
Bottle: White glass from lt.0,50
Gastronomic combinations: Excellent combination with pastries or with the typical cake of our valleys: the "Gubana". Perfect with dry cakes, almond cakes, creamy cakes with mascarpone base. Sublime with ham and figs, foie gras, pumpkin-gnocchi.. Is also interesting with spicy cheeses and long aged cheeses.
Serving temperature: 10° - 12°C.
Download datasheet

:

09_VERDUZZO FRIULANO_EN.pdf